Virginia Beach Movie Theaters
1001 Lynnhaven Mall Loop
Virginia Beach VA 23452 map
888.AMC.4FUN
1220 Fordham Drive
Virginia Beach VA 23464 map
757.578.3435
758 Independence Blvd
Virginia Beach VA 23454 map
757.523.7469
IMAX - Virginia Aquarium & Marine Science Center
717 General Booth Boulevard
Virginia Beach VA 23451 map
757.425.3474
104 Constitution Drive
Virginia Beach VA 23462 map
800.326.3264 395
4554 Virginia Beach Blvd.
Virginia Beach VA 23462 map
800.326.3264 396
Regal Strawbridge Marketplace 12
2133 General Booth Boulevard
Virginia Beach VA 23454 map
800.326.3264 397
Summer Schedule - Big Name Concerts!!
One of the most exciting attractions to Virginia Beach is the Farm Bureau - Live Nation Va. Beach Amphitheater that has seating for 20,000 guests - 7,500 reserved seats under the pavilion roof and room for 12,500 on the lawn. There's literally no bad seat in the house!
Performing Arts / Theatre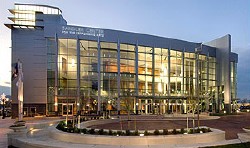 The Sandler Center for the Performing Arts

The city of Virginia Beach is highly committed to the supporting the performing arts. Here's a list of the various local theaters in the area for your enjoyment:
The Sandler Center

for the Performing Arts (click here for tickets)
201 Market Street (adjacent to the Westin Hotel)
Virginia Beach, Virginia 23462
(757) 385-ARTS
Symphonicity - The Symphony Orchestra of Virginia Beach
291 Independence Blvd.
Pembroke Four - Suite 421
Virginia Beach, VA 23462
(757) 671-8611
420 Thalia Rd
Virginia Beach, VA 23452-1852
(757) 467-7224
Virginia Musical Theatre
550 Barberton Drive
Virginia Beach, VA 23451
(757) 428-9233
Hampton Roads Shakespeare Festival
at the Frances Land House
3131 Virginia Beach Blvd
Virginia Beach, VA 23452
Each summer, the Shakespeare production is performed on the beautiful grounds of the historic Francis Land House.