SHOP... the Winter Blues Away!
After the holidays, our lives tend to slow down, and we are faced with trying to keep our beach dreams alive until the summer. What better way to stay inspired than to surround yourself with all things "BEACHY"! This is one of our favorite sites for beachy items. Check out the awesome daily deals at:

Virginia Beach Boutiques
Find everything from fashion to frappucino at this eclectic and upscale collection of boutiques and restaurants.
The Shoppes @ 31 Ocean are right across from the Hilton Virginia Beach Oceanfront at 31st Street and Atlantic Avenue, and free parking is available in the attached garage on Pacific Avenue.
The Shoppes at 31 Ocean
3001 Atlantic Avenue
Virginia Beach, VA 23451
(877) 31.OCEAN
Virginia Beach Malls
Just 5 minutes from the oceanfront you will encounter the Hilltop area, which includes several shopping options. Specialty retailers like Williams Sonoma, art galleries, boutique shops, and discount stores like Stein Mart as well as many great restaurants and cafes are all at your disposal in the Hilltop Shopping Centers. Trolley service available.

Lynnhaven Shopping Mall
Lynnhaven mall features four department stores including Macy's, Dillard's, and Dick's Sporting Goods, as well as great specialty retailers and eateries. All in all you'll discover over 170 stores and services, including an AMC 18 movie theater. Kids will love the double-decker carousel and elaborate children's' play area. Lynnhaven Mall is located just 10 minutes from the beautiful Virginia Beach Oceanfront, trolley service available.
Redmill Commons Shopping Center
Red Mill Commons is a refreshing shopping experience complete located near the Sandbridge Beach area. You'll love shopping the biggest names in retail and a unique mix of 80 other fine shops and restaurants.
Flagship department stores like Nordstrom and Dillard's and 150 upscale shops and restaurants make the MacArthur Center an exceptional shopping experience. This mall has everything from art galleries to fabulous clothing and jewelry, and even offers an AMC 18 movie theater and several delicious dining options. Located 25 minutes from the oceanfront.
Virginia Beach Surf Shops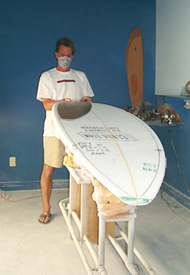 Bill Frierson - Surfer, Shaper, Legend... and all-around good guy!

1165 Jensen Dr. / (757) 491-7130
360 Tour of Shop:
www.friersondesigns.com - 360 Tour
305 16th St. / (757) 428-7363
1900 Cypress Ave. / (757) 428-1877‎
437 Va. Beach Blvd / (757) 428-6703‎
1612 Pacific Ave / (757) 422-6105‎
1361 Laskin Rd / (757) 491-0266
211 24th Street / (757) 428-3389‎
1616 Laskin Rd #748B / (757) 437-8141‎
1789 Princess Anne Rd / (757) 426-0111